Planning & process
How does one specify an easy-to-use system? How do you ensure end-user needs are met? Will the user interface support the way in which users will need to work with it?
Ensuring that end-user needs are considered during development:
Usability Partners helps ensure that usability and user experience issues are considered early in project specification and remain in focus during development work.
We provide guidance on activities that should be carried out during the development process.
Our consultants can advise and educate your development team in conducting usability and user-centred activities, or carry out such activities directly as members of your team.
We help bridge the gap between end-users and development teams.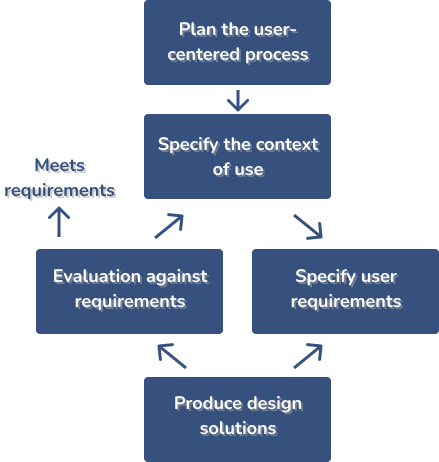 From ISO 9241-210 - User centered development for interactive systems.
Our usability and UX specialists can advise on which user-centred activities should be conducted to ensure good usability.
Defining requirements
We provide advice in the early stages of project planning, concerning demands that should be placed on the ease of use of the user interface, usability goals and how user needs should be taken into consideration during development.
Process and activity planning
We advise before and during project execution in the choice of user-centred activities to conduct and how these activities should be integrated into the development process as a whole. We also provide training, seminars and courses for project managers, designers and developers.
Our usability and UX specialists can participate in your project as part of the development team, conducting activities such as:
Analysis of the context of use (end-users, their goals, characteristics, and usage situations)
Formulation of usability goals and overall design criteria
User requirements analysis - e.g. through surveys, focus groups, interviews, and product usage studies
Analysis of user tasks, documentation of user personas and usage scenarios
Documentation of customer journey maps to visualise user actions/interactions, experiences and opportunities
Creation of design concepts using mock-up techniques and prototyping tools
Provision of concrete advice and design recommendations to designers and developers
Iterative evaluation of prototypes to continuously improve the design during development
Tracking of key usability and UX issues and advice to project management concerning progress